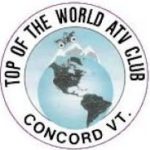 464 Beach Drive
North Concord, VT
(802) 695-2280
Trails close for season on December 14, 2019.
(Conditions permitting, possibly sooner).
Please respect hunters.

Next TOW meeting will be in March 2020 - date to be announced.
Top of the World ATV Club (TOW) is a VASA affiliated club located in Concord Vermont.  It was organized for charitable & educational purposes and encourages the safe, courteous, lawful and responsible use of ATVs.  
TOW actively seeks and supports the preservation and protection of our natural environment and promotes the development of recreational areas for the use of ATVs.  
Thanks to the landowners that we maintain a close relationship with, we offer miles of varied terrain to ride on.