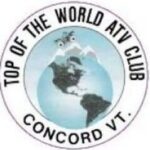 464 Beach Drive, North Concord, VT - (802) 695-2280
Email: towatv.vt@gmail.com  - Twitter: @tow_atv
Upcoming Events:  
Meeting - Saturday, April 29, 2023 9:00am - 464 Beach Drive, North Concord, VT - Trail Work after meeting
Trails Open May 1, 2023
Don't forget to get your TADs online at VASA.ORG 
Top of the World ATV Club (TOW) is a VASA affiliated club located in Concord Vermont.  It was organized for charitable & educational purposes and encourages the safe, courteous, lawful and responsible use of ATVs.  
TOW actively seeks and supports the preservation and protection of our natural environment and promotes the development of recreational areas for the use of ATVs.  
Thanks to the landowners that we maintain a close relationship with, we offer miles of varied terrain to ride on.

TRAILS WILL BE CLOSED
NOVEMBER 1, 2022 -
MAY 1, 2023
Trail closure-- Goodreault Hill Road to Ladd Road is now closed due to landowner request for hunting season. It will reopen in the Spring of 2023.
 WANT TO SPIN OUT AND DO DONUTS ON LAND OWNED BY OTHERS??   
STAY HOME!!

Please be respectful of landowners and avoid causing damage to trails that have not dried out yet.  Stay safe - Be sure your machines are registered with VASA (easy to do online using your cell phone) and remember your helmet!!!
See you on the trails!!!!
The Miles Pond Pavilion is NOT a trailhead and we ask that people not park there. The people that pay to rent the pavilion need to park there. We have parking at the trailhead at the bottom of Foundry Road in Concord.