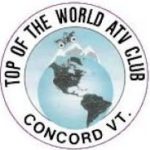 464 Beach Drive
North Concord, VT
(802) 695-2280
Email: towatv.vt@gmail.com
Twitter: @tow_atv
Next Meeting:  August 13, 2022 @ 10:00 am

Upcoming Events;
9/3/22 -  Poker Run (Details will be posted later on)
TRAILS OPEN
Please be respectful of landowners and avoid causing damage to trails that have not dried out yet.  Stay safe - Be sure your machines are registered with VASA (easy to do online using your cell phone) and remember your helmet!!!
See you on the trails!!!!
TRAIL CLOSURES
The following trails are currently CLOSED:
The Kirby Mountain Loop

is temporarily closed. Ride Command has been updated. Please respect signs indicating trail closures. We will update you when this changes. For riders new to our area, these trails are on the western side of our trail system. Thank you for your patience and understanding.

The intersection CA-108 going North to power line where it turns to go to the Horn

of the Moon

is closed until further notice.  Larry Brown has requested a section of Car Brook be closed due to ATV's doing donuts at the pit, intersection by the tin shack & misc. areas.  New signs have been posted at both ends and intersection to back side of pit.
RT 2 dual ATV usage starts May 1, 2022
1) This means that, as of May 1st, you can ride from the kiosk/trailhead off Royalston Corner Road in Concord-- facing Route 2 take the road that is on your right-- then head east along Route 2 to Alpine Valley Campground and Mooselook Restaurant.
2) This means that, as of May 1st, you can ride from Shadow Lake Road (near the Fire Station) in Concord along Route 2 going west to Woodward Road, just west of Concord village
3) THIS DOES NOT MEAN THAT YOU CAN LEGALLY RIDE ON ROUTE 2 ANYWHERE ELSE!!!
As always- remember this is a privilege and not a right. Do not abuse it- be respectful- laws of the road apply and unless crossing the road, ride on the shoulder of the road not on the travel lane and go with traffic -- we don't want to lose this access since it will benefit so many riders.
The Miles Pond Pavilion is NOT a trailhead and we ask that people not park there. The people that pay to rent the pavilion need to park there. We have parking at the trailhead at the bottom of Foundry Road in Concord.
Top of the World ATV Club (TOW) is a VASA affiliated club located in Concord Vermont.  It was organized for charitable & educational purposes and encourages the safe, courteous, lawful and responsible use of ATVs.  
TOW actively seeks and supports the preservation and protection of our natural environment and promotes the development of recreational areas for the use of ATVs.  
Thanks to the landowners that we maintain a close relationship with, we offer miles of varied terrain to ride on.
 WANT TO SPIN OUT AND DO DONUTS ON LAND OWNED BY OTHERS??