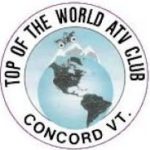 464 Beach Drive
North Concord, VT
(802) 695-2280
Email: towatv.vt@gmail.com
Twitter: @tow_atv
Next Meeting:
March 26, 2022 - 10:00am
464 Beach Drive
North Concord, VT
Trails Close:
 December 14, 2021 (Conditions Permitting)
TRAILS CLOSE DECEMBER 14, 2021 (Conditions permitting.  Please check the website for any updates)
There are 2 trails that have already closed--- Ladd Road to Wheaton Road and the Powerline to Bombard Road. As always, please respect our trails and the landowners who provide us with this wonderful opportunity! Safe riding!
---
The Miles Pond Pavilion is NOT a trailhead and we ask that people not park there. The people that pay to rent the pavilion need to park there. We have parking at the trailhead at the bottom of Foundry Road in Concord.
---
To ride the trails people need to buy a Trail Access Decal (TAD) . With their current registration (VT or out of state) they can purchase them at PettyCo Jct , Naults, or online at VASA.
Naults Powersports at 515 Union St in Littleton is now selling VT Trail Access Decals (TAD's).
---
 WANT TO SPIN OUT AND DO DONUTS ON LAND OWNED BY OTHERS??   
Larry Brown has requested a section of Car Brook be closed due to ATV's doing donuts at the pit, intersection by the tin shack & misc. areas.
Please be advised at intersection CA-108 going North to power line where it turns to go to the Horn of the Moon is closed until further notice.
New signs have been posted at both ends and intersection to back side of pit.
---
Top of the World ATV Club (TOW) is a VASA affiliated club located in Concord Vermont.  It was organized for charitable & educational purposes and encourages the safe, courteous, lawful and responsible use of ATVs.  
TOW actively seeks and supports the preservation and protection of our natural environment and promotes the development of recreational areas for the use of ATVs.  
Thanks to the landowners that we maintain a close relationship with, we offer miles of varied terrain to ride on.
---