TRAILS WILL BE CLOSED FROM NOVEMBER 1, 2022 TO MAY 1, 2023
Please be respectful of landowners and avoid causing damage to trails that have not dried out yet. Stay safe and be sure your machines are registered with VASA (easy to do online using your cell phone) and remember your helmet!!!
See you on the trails!!!!
The Miles Pond Pavilion is NOT a trailhead and we ask that people not park there. The people that pay to rent the pavilion need to park there. We have parking at the trailhead at the bottom of Foundry Road in Concord.
TRAIL RULES & REGULATIONS
Alcohol & Drugs are strictly prohibited on or at any Club functions or affairs.
It is MANDATORY that all members wear a helmet while riding on trails, and attending events.
Any member receiving three or more ATV warnings or violations from a law enforcement official within one year, will have his/her membership privilege revoked for the period of one full year.
All members using Town roads to access trails will travel at the Town posted speed limit or less; unless it is posted specifically for ATV's.
To keep the cleanliness of all trails – if you bring it in, you need to take it out.
Stay off from snowmobile maintained trails during snowmobile season.
If anyone under 16 years of age, they must join under a parent.
ROUTE 2 DUAL ATV USAGE STARTS MAY 1, 2022
This means that, as of May 1, 2022, you can ride from the kiosk/trailhead off Royalston Corner Road in Concord-- facing Route 2 take the road that is on your right-- then head east along Route 2 to Alpine Valley Campground and Mooselook Restaurant.
This means that, as of May 1st, you can ride from Shadow Lake Road (near the Fire Station) in Concord along Route 2 going west to Woodward Road, just west of Concord village
THIS DOES NOT MEAN THAT YOU CAN LEGALLY RIDE ON ROUTE 2 ANYWHERE ELSE!!!
As always- remember this is a privilege and not a right. Do not abuse it- be respectful- laws of the road apply and unless crossing the road, ride on the shoulder of the road not on the travel lane and go with traffic -- we don't want to lose this access since it will benefit so many riders.
TRAIL CLOSURES
The following trails are currently CLOSED: 
The intersection CA-108 going North to power line where it turns to go to the Horn

of the Moon is closed until further notice.  Larry Brown has requested a section of Car Brook be closed due to ATV's doing donuts at the pit, intersection by the tin shack & misc. areas.  New signs have been posted at both ends and intersection to back side of pit.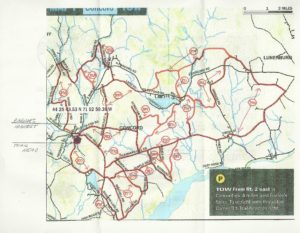 TRAIL ACCESS DECALS (TADS)
To ride the trails people need to buy a Trail Access Decal (TAD) .  TADs can ONLY BE PURCHASED ONLINE through VASA.  Just click on the logo below to start the registration process!